Essential and timeless
The beauty of the AC 01 is in its simplicity, combining the classic analogue clock face with modern design and some well thought-out practical touches.
Intuitive in use
Switch it on; switch it off; prolong sleep by activating snooze; check the time in the middle of the night. Four simple actions which need to be performed intuitively – the AC 01 is much easier to use than any phone, and the cleverness of its design has a magic of its own.
Solidly made
The solid aluminium body gives it both strength and style.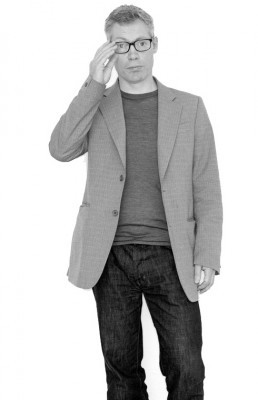 Design
"It's an alarm clock with a shape that I designed … it sits slightly angled on an L-shaped aluminium extrusion, with the clock face set into a round hole. The alarm is switched on and off by rotating a ring on the outside of the mechanism, and a small window below the 12 marker on the clock face indicates the alarm status."


Jasper Morrison
Technical Specifications
AC 01
Colour

Red

Black

White

Anodised
---
Size and weight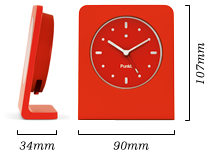 Height: 107 mm
Width: 90 mm
Depth: 34 mm
Weight: 200 grams
---
Movement
Quartz
---
Snooze function
Alarm signal repeated every 5 minutes for a total of 40 minutes.
---
Languages
(enclosed documentation)
English , French, German, Italian and Spanish.
---
Dial and Hands


Through-lit with a single LED light (cold white) LumiBrite high-brightness and environmentally-friendly luminous coating on clock face and arms.
---
Battery
3x IEC LR44 batteries
Alarm clock battery life: ~1 year
Light ring battery life: ~1 year
---
Time accuracy
±20 sec./month (at +5°C ~+35°C)
---
Alarm accuracy
~ ± 5 min.
---
Alarm volume
75 dB
---
Working voltage
1.3V ~ 1.7 V
---
Operating temperature
Min -10°C, Max 50°C
---
In the box
AC 01 Alarm Clock
3 preinstalled IEC LR44 batteries
Quick installation guide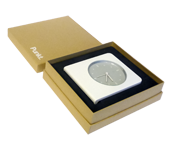 Punkt. guarantees its product for a period of two years from the date of purchase. The guarantee only applies to defects attributable to the production process or materials used.
The product covered by the guarantee may be repaired or replaced after being assessed by Punkt.. The service for products covered by the guarantee can only be obtained by presenting proof of purchase (a valid receipt) and the original packaging.
The guarantee does not cover parts subject to normal wear and tear due to daily use of the product, such as batteries (if provided with the product), power cords, various cables, connectors or sockets, external parts and plastic parts that do not show obvious signs of manufacturing defects.
The guarantee does not cover accidental damage, misuse, negligence and is null and void if the product has been tampered with by unauthorized persons. For further information, or if other problems arise, please contact the Punkt. dealer closest to you, or get in touch with us using the form on the Punkt. website.