Compact Design
DECT-standard phone with integrated answering machine in a very sleek design.
Easy to use
Big keys, large on-screen fonts – and it sits the right way up.
Stable handset
The handset lies stably on flat surfaces, for convenient hands-free conversations.
Up to 6 phones from a single network socket
The DP 01S Additional Unit gives you up to 5 additional telephones without additional phone extension sockets. (A DP 01 can also be used as an Additional Unit, paired with another Main Unit.)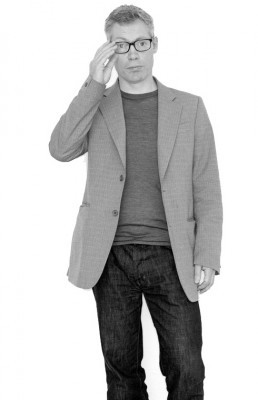 Design
"I thought about the old telephone, lying face down on its cradle, and asked myself if it wouldn't be better the other way round, so you could see the screen and dial the number without picking it up."


Jasper Morrison
Technical Specifications
DP 01 main unit/DP 01S additional unit1
Color

White
2

Black

Red
2
---
Size and weight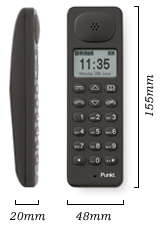 Handset:
Height: 155 mm
Width: 48 mm
Depth: 20 mm
Weight (with batteries): 145 grams
Weight (without batteries): 125 grams
Base:
Height: 155 mm
Width: 48 mm
Depth: 50 mm (maximum)
Weight: 175 grams (including connector)
---
System
DECT standard. DECT (Digital Enhanced Cordless Telecommunications) is a flexible digital radio access standard for cordless communications that makes use of several advanced digital radio techniques to achieve efficient use of the radio spectrum. It delivers high speech quality and security with low risk of radio interference and low-power technology.
Caller ID supported. Needs the CLI service (Calling Line Identification) to be enabled on your phone line by your telephone operator.
Intercom function

Call history

3
---
Answering machine

3
Visual answering machine with message registration sorted by date and time
Total storage capacity for recorded voice messages: 15 minutes (max. 1 minute for each message)
---
Contact list

3
Up to 100 contacts with 3 numbers for each entry
---
Languages
Language support for English, French, German, Italian, Spanish, Danish, Swedish, Dutch, Finnish and Norwegian.
---
Display


1.6" horizontal, 128 X 64 dots, PWM back lit with black text on white background.
---
Maximum transmission range

4
---
DECT-GAP Compliance
Please note that the DP 01 is designed for analogue telephony, however It is also possible to connect it to a PSTN (analog) port of a ISDN line.
It is possible to connect up to 5 Punkt. additional units to the Punkt. base unit (Punkt. handsets or other manufacturers' handsets if compliant with the DECT-GAP standard).
Each Punkt. handset can be connected to up to 4 different DECT-GAP base units.
If another manufacturer's products are used, only the ability to make and receive phone calls is guaranteed according to the DECT-GAP standard. Proprietary features (for example voicemail/voicemail system or CLI caller ID) may not be available if other manufacturers' products are used with Punkt. products.
---
Power and battery
2x AAA Ni-MH (650-700mAh rechargeable, removable) for the handset
Charging via base
Talk time: up to 10 hours
Standby time: up to 100 hours
---
Environmental operating constraints
Nominal working temperature: 15° to 35° C
Extreme working temperature: 0° to 40° C
Relative humidity: 5% to 75%
---
Region-specific versions
EU: Italy, Switzerland, Germany, France, Austria, Norway, Spain, Sweden, Portugal
NL: Belgium, Netherland, Luxembourg
US: United States
UK: United Kingdom, Ireland
In the box
Handset
Base
Power supply (180+180cm)
2 Ni-MH AAA rechargeable batteries
RJ11 cable (180+200cm)
Quick installation guide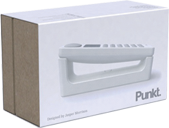 1 DP 01S works with 100% functionality (e.g. voicemail/voicemail service) only if paired with a DP 01 main unit
2 DP 01 only
3 Data is stored in DP 01 main unit base
4 Transmission range can vary according to the position of the base, construction materials used in the area, electromagnetic pollution, interference with other radio devices, etc. DECT performance levels are given as a reference only and are not guaranteed.
Punkt. guarantees its product for a period of two years from the date of purchase. The guarantee only applies to defects attributable to the production process or materials used.
The product covered by the guarantee may be repaired or replaced after being assessed by Punkt.. The service for products covered by the guarantee can only be obtained by presenting proof of purchase (a valid receipt) and the original packaging.
The guarantee does not cover parts subject to normal wear and tear due to daily use of the product, such as batteries (if provided with the product), power cords, various cables, connectors or sockets, external parts and plastic parts that do not show obvious signs of manufacturing defects.
The guarantee does not cover accidental damage, misuse, negligence and is null and void if the product has been tampered with by unauthorized persons. For further information, or if other problems arise, please contact the Punkt. dealer closest to you, or get in touch with us using the form on the Punkt. website.