Highlights
Timeless, clean design
There's no need to hide the good-looking ES 01, so stow your power supplies in a clean design feature and keep them within reach.
Clever cable management
The ES 01 cleverly responds to all of your cable management needs by giving you a flexible socket layout, a removable lid, and a C-clip to group your power leads.
Energy saving made simple
The on/off switch on top of the ES 01 helps reduce energy consumption by shutting off the power supply to all the devices plugged in. A soft white light indicates the status.
Features
*The 3m power cord of the North American version is not fabric, but vinyl, in compliance with US safety regulations.
**Surge Protection is only available on the North American version of the ES 01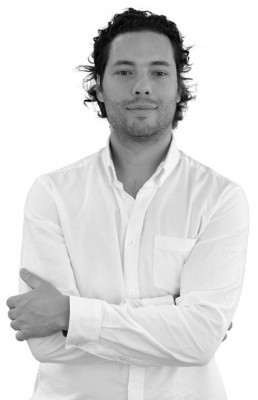 Design
"I wanted to make crawling under furniture to untangle cables a thing of the past, and the design challenge was to find an attractive and accessible solution to this problem."
Georges Moanack is a Colombian Industrial Designer based in Barcelona. He graduated from the Universidad de Los Andes in Bogotá in 2003 and in 2008 he took a masters degree in Product Design at the Royal College of Art, London.
Since graduating in 2003, his projects and product designs have received awards in America and Japan. His winning works are Loop (a handle for transporting bottles) and Blind +. His main clients include Bogatá's public transportation authority TransMilenio, for which he developed and produced his degree project Trazo.
Moanack is interested in the human aspect of design and how it influences users' day-to-day lives.
His proposals start out from people's needs, incorporating aesthetics, functionality and design simplicity with the ultimate aim of enhancing users' physical and emotional wellbeing.
Georges Moanack Profile [87 KB]
Technical Specifications
ES 01 versions for different countries
The ES 01 is available in a range of versions to comply with the different power supply standards of a wide selection of countries.
Please check on punktgroup.com to see if the ES 01 is available in your country.
Made in Italy
The ES 01 is manufactured and assembled in Italy.
Colour:
---
Check ES 01 dimensions
Weight: 930 grams
---
Appliances connected to ES 01 maximum overall power rating:
2300W-50Hz-230V (Type F/L Italy; Type F Schuko; Type E Frenchplug; Type J Swiss; Type G UK)
1800W-60Hz-120V (Type B America)
---
Functions:
Main power switch
Overload protection
10 Ampere resettable fuse (Type F Schuko; Type E Frenchplug; Type J Swiss; Type G UK); 15 Ampere resettable fuse (Type B America version)
Surge Protection (Type B America version only)
---
In the box:
ES 01 Extension Socket
Rubber C-clip
Quick installation guide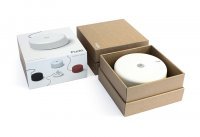 ---
Sockets and power cord:
Type F/L Italy : 5x CEE 7/4 - L 10A Sockets, CEE 7/7 plug
Type F Schuko: 5x CEE 7/4 sockets; CEE 7/7 plug
Type E Frenchplug: 5x CEE 7/5 sockets; CEE 7/7 plug
Type J Swiss: 5x SEV 1011 sockets; SEV 1011 plug
Type G UK: 5x BS 1363 sockets; BS 1363 plug
Power-cord length: 3m (all versions)
---
Certified compatible countries:
Type F/L Italy: Italy; San Marino; Vatican
Type F Schuko: Andorra; Austria; Bulgaria; Denmark; Estonia; Finland; Germany; Greece; Hungary; Iceland; Latvia; Lithuania; Luxembourg; Netherlands; Norway; Portugal; Romania; Slovenia; Spain; Sweden; Turkey
Type E Frenchplug: Belgium; Czech Republic; France; Monaco; Poland; Slovakia
Type J Swiss: Lichtenstein; Switzerland
Type G UK: Cyprus; Ireland; Malta; United Kingdom
Punkt. guarantees its product for a period of two years from the date of purchase. The guarantee only applies to defects attributable to the production process or materials used.
The product covered by the guarantee may be repaired or replaced after being assessed by Punkt.. The service for products covered by the guarantee can only be obtained by presenting proof of purchase (a valid receipt) and the original packaging.
The guarantee does not cover parts subject to normal wear and tear due to daily use of the product, such as batteries (if provided with the product), power cords, various cables, connectors or sockets, external parts and plastic parts that do not show obvious signs of manufacturing defects.
The guarantee does not cover accidental damage, misuse, negligence and is null and void if the product has been tampered with by unauthorized persons. For further information, or if other problems arise, please contact the Punkt. dealer closest to you, or get in touch with us using the form on the Punkt. website.