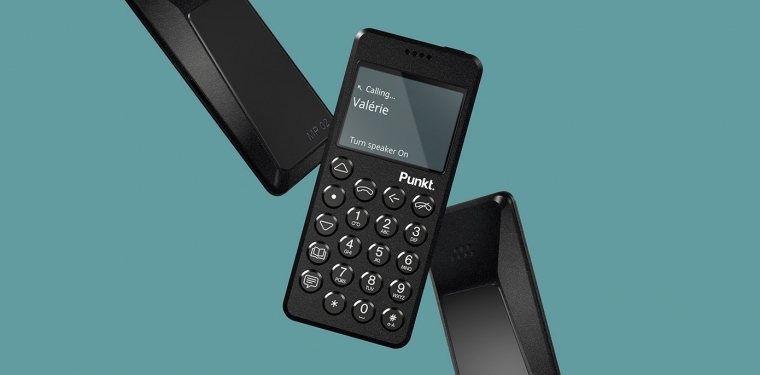 The MP02, Punkt.'s second mobile phone, will be launched at the London Design Festival on 17 September
This September Punkt. will be returning to the London Design Festival, again with a new mobile phone designed by Jasper Morrison. Created to complement the more minimalist MP01, the MP02 offers a handful of new features that provide access to the very best of what the digital age has to offer – in a way that is unique, smart and effective.
Like the MP01, but unlike most 'mobile phones' nowadays, it's built for making phone calls – still often the fastest and most effective way to connect, whether for business or personal communication. Talking into a slab is irksome: the MP02 has great audio and excellent ergonomics.
The MP02 operates on 4G LTE, and provides data linking for secondary devices – perhaps a small tablet for maximum portability, or a laptop for heavy-duty typing. The Internet is available to the user, but not the other way round. And it's viewed via a sensibly-sized screen.
Other new features include BlackBerry Secure, Android OS, threaded text-messaging with user-defined dictionary, and a bespoke user interface quite unlike anything ever seen before.
Full product specifications will be released on 17 September. Pre-orders for the MP02 will be taken from then.
* * *
Pixels are great. But handwriting will always be something else.
In 2013, Jasper Morrison was asked by LAMY, the esteemed German manufacturer of writing instruments, to design a product for them. The result was the Aion family, of which the rollerball version, in black, will be included free with each MP02 that is purchased pre-release.
LAMY was founded in Heidelberg in 1930 by C. Josef Lamy. To this day, all their products are manufactured at their site in the city. The company is known for its focus on quality design, taking reference from Germany's modernist Bauhaus tradition. We have chosen the aion as a reminder of the fact that while we want people to use the MP02, we don't want them to use it too much…
The MP02 will be at the Jasper Morrison Shop from 17 September until the London Design Festival ends on 23 September.
Opening hours 11am to 5pm.
24b Kingsland Road
London
E2 8DA