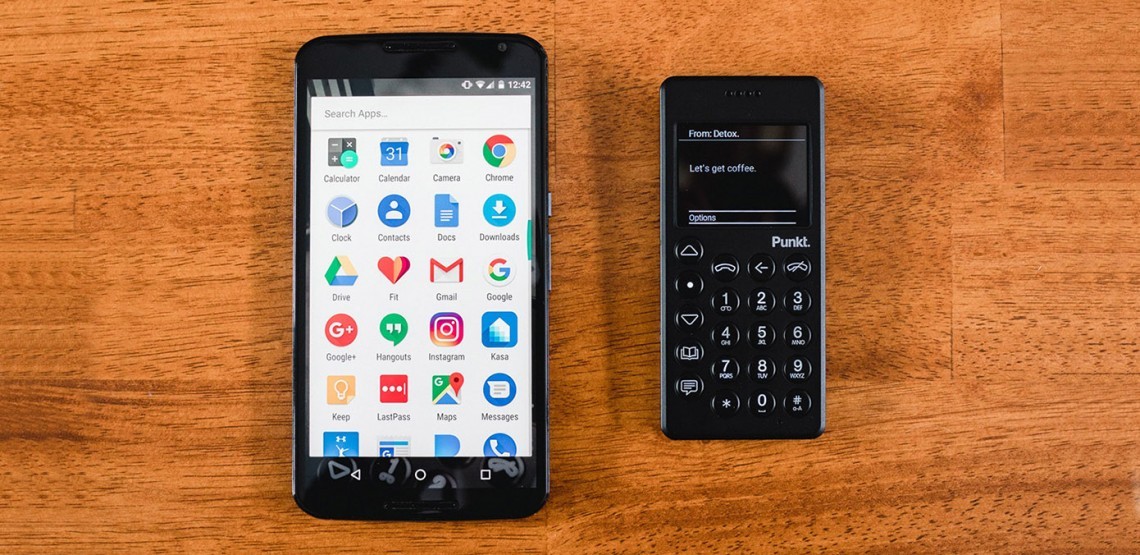 Nine months in
Taken from a previous Challenge participant's detox blog, describing how he made major changes to how he uses technology at work and at home.
October marks nine months that I have been in and out of a digital detox – or at least minimalism of digital interaction. Since my Month 6 update in July, I have more or less been on cruise control – but of course, still hit bumps off and on. So, by platform, here are my Month 9 updates for you.
Get Punkt. (Again)
As I mentioned in the last mini-update, the SIM I was using on my Punkt. MP01 had expired and I was temporarily between phones. I spent about a month on an ancient Blackberry Q10 until it croaked. Thinking I have learned the ultimate in minimalist discipline, I jumped back onto my Nexus 6P as it still had a live SIM (was a Project Fi – Google-only SIM – so only device it works on). Sadly enough, I wasn't as disciplined as I thought.
I was finding apps leaking back onto this phone – things like step trackers, a banking app, weather apps, a shopping app, and even a social media app (Slack). Gasp! I decided I need to reel myself back in as I just don't want (or more importantly, need) to be this connected all the time.
I grabbed a new SIM and fired the Punkt. MP01 back up and ... that boot-up loon sound was like coming home. Now, I admit that I am not full-time on this phone this round. I have been communicating with my employees over MMS the past few months which the MP01 sadly doesn't support. So, during the work week, I put the SIM into the Nexus to communicate with the team. But from Friday afternoon to Monday morning is all about the unplugged Punkt. The simplicity really gets me unwound each weekend and plugging into the Nexus is dreaded each Monday morning.
Social Media
Aside from the occasional "business updates" from my Physical Grain accounts, I have been off the big social media accounts. The only platform I still use is Slack for communication with the Against the Grain podcast. I do feel like I am on there a bit much each week, though it's never much more than 10 minutes a day.
I am still on the fence on pulling the "business" social media accounts. They are 99% one-way communication and I almost never interact with anyone else on them now. I post zero personal business other than test shots from lens and camera reviews. They're really there to drive traffic to Physical Grain, so it's about promoting others.
But like I said, on the fence about keeping those two Twitter and IG accounts. I mean, are they really needed and does the 5-10% of traffic they drive really account for the effort? I'd really like to be 100% off social media at some point – maybe get someone else to push new posts out there for the website.
Do I miss interacting on social media? Nope.
Screen Time
I am pretty happy with how much time I spend in front of (any) screen after work hours. I still catch a few shows on TV through my Roku (yes, we're cord-cutters) but it seems like it's becoming less and less. Linda and I have a passion to zen out with puzzles, so we do a ton of those, especially with the kids back in school. It's nice to just sit at the table, toss on some tunes, and just do some mindless puzzles.
I tend to only catch the news on Sunday mornings now – and from BBC rather than any US sources. This way, I get a recap on what's happening in the world each week, not some kind of US narcissistic political nonsense.
Only other screen time is editing photos or writing on my blogs from home. I try not to email or surf at all from the house unless it's hitting Amazon for some kind of purchase.
If you want to call my Kindle Voyage a screen, albeit e-Ink, then I guess there's more screen time there – reading 1-2 books a week still.
Are You Detoxing?
I'd love to hear from others that are either in a digital detox, or are contemplating one. What struggles have you had with it? Relapse? Lessons learned? Feel free to leave a comment on my blog!
Ray Larose
New Hampshire, USA