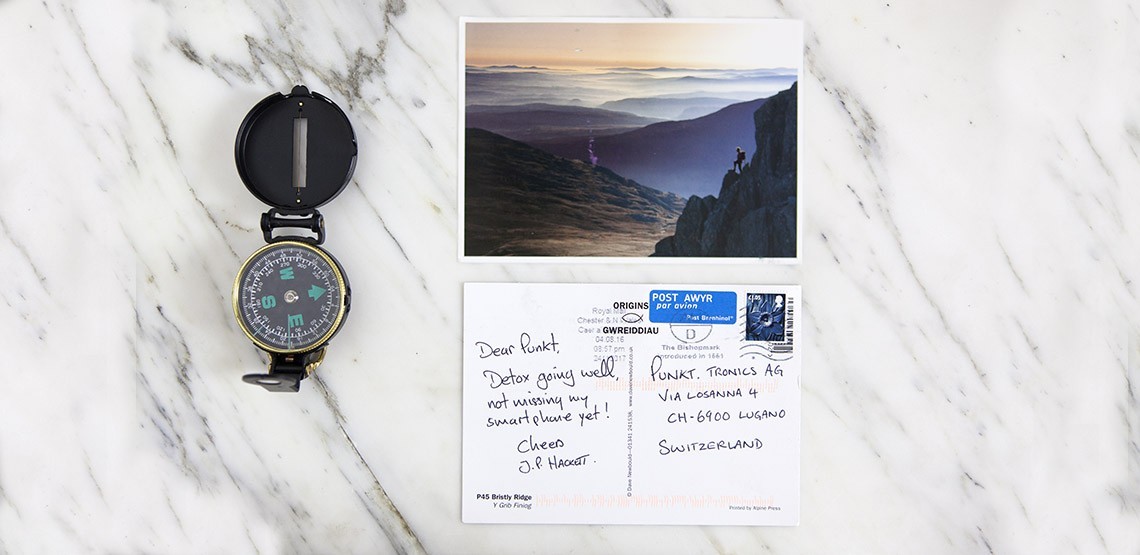 Contented when disconnected.
The knock at the door was anticipated. The courier driver muttered something in a thick Welsh accent and handed me a small brown box. The box had come from the Swiss company Punkt., and in it was a mobile phone.
Now this was no ordinary smartphone. This was, in fact a dumbphone. A beautifully designed, slick and stylish dumbphone. This was the Punkt. MP01.
A few weeks earlier I had signed up to take part in the Digital Detox Challenge, run by the company to see if participants could go for 48 hours without picking up their smartphones. Simple right? I mean how hard can it be to go without a smartphone for a couple of days?
So here it was. I was immediately struck by just how awesome the phone looked and felt. It had a utilitarian, almost military feel to it. The best part was that the phone was small enough to slip into the pocket of my jeans, without looking too obvious. Despite its diminutive size, the phone had a reassuring amount of weight. It didn't feel cheap and vulnerable like so many handsets these days.
With the phone charged and ready to go I jumped into my car and went to the nearest supermarket to buy a compatible sim card. The sim from my smartphone wouldn't work in the MP01, as it only works on 3 & 4G networks. Luckily O2 still uses the 2G network that the quad-band MP01 needs to function, so I bought one, popped it into the phone ready to begin my challenge.
My family and I had just started our annual holiday when the phone was being shipped from Switzerland. Luckily the folks over at Punkt. were more than happy to change the shipping address and send it to me in North Wales! We were planning on doing a fair bit of climbing and hiking in the mountains, so mobile coverage was expected to be patchy at best. This detox thing was going to be easy!
The following morning, after breakfast I decided to begin the challenge. In the hours between getting up and eating breakfast, I checked my e-mails, sent out the last few tweets and checked my social media channels one last time. My wife and son sat and looked at me, looked at each other and said "no chance". They were convinced that being a smartphone addict, I was surely going to fail the challenge. My son was especially interested in making sure I stayed the course. He had an ulterior motive.
Powering down my smartphone, I intended to put it in a drawer and forget about it, simple right? WRONG! My son decided that this would be a great opportunity for him to play with the phone, using it to hunt for small virtual Manga style animals in an augmented reality game. This was going to be tricky, the temptation to glance at my phone would be difficult to resist. So with this in mind I quickly turned off synchronization across the various apps, hoping that that would be enough to keep me from picking the phone up.
Powering up the MP01 was quick and simple. I quickly found out how to add some of the contacts that I needed to have on the phone, chose a cool ringtone and, well, that was it. I didn't have to worry about installing this app, or linking to that wi-fi network, those things were just not there anymore. So I put it into my pocket and headed out to get on with my day; luckily my wife convinced our son to leave my smartphone in the cottage "to give Daddy a chance"!
We arrived at our first destination, a slate museum. As I got out of the car, I unthinkingly reached into my pocket, pulled out the phone and checked for messages and calls. Nothing. This meant that the phone went straight back into my pocket and away we went. We watched demonstrations, toured the old quarry buildings and spent money in the gift shop. All the while I was anticipating my first SMS or call on the MP01. Nothing.
As the hours went by a strange thing started to happen. The urge to check my phone slowly but surely began to wane. The feeling that I was somehow missing out on something started to go away. Was this what freedom from a digital life felt like?
By the evening of the first day familiar feelings began to return. The family routine had always included me browsing the various apps on my smartphone whilst watching TV or preparing the evening meal. The urge to have a "quick look" was almost unbearable. Luckily my wife reminded me that I had taken my laptop on holiday with me. "Maybe you can check everything on that for an hour after dinner?" she suggested. It sounded like a good idea, but as we sat and ate, I realised that doing that wasn't really in the spirit of the challenge, so for the first time in as long as I can remember, I left the laptop where it was. I only had another 30 hours or so to go.
The next morning at breakfast, my ten year old son asked if he could play with my smartphone. I reluctantly agreed, but told him that he mustn't bring it anywhere near me and that he must return it to the drawer when he had finished with it. He agreed and went outside searching for a yellow cat-like creature. The MP01 still hadn't rung, vibrated or notified me of anything, let alone calls and text messages. I'd made sure that the people that needed the new number had it and had told them that can call me whenever they wanted. That hadn't happened yet. No SMS, no calls, no nothing. I checked to see if the phone was still on. It was and it was functioning perfectly. The battery indicator showed that the phone was still full of power, my smartphone, in comparison, would have needed to have been on charged several times by now!
This second day would see us hiking up Mt. Snowdon in the morning and then visiting Port Merrion in the afternoon. I barely noticed the phone in my pocket the whole time. As we reached the summit of the mountain, I decided it was about time that I called someone with the MP01. I called a good friend of mine and chatted about our vacation so far. I pointed out that we were on top of Snowdon, and despite the fine weather, we were getting blown about quite a bit. My friend commented on how clear the phone sounded and that he couldn't hear much in the way of wind noise. Normally I would have pulled out my selfie-stick, taken a photo of the family and posted it on Instagram. Instead I went old‑school and used a camera?! It felt good not tweeting our location as­‑it‑happens, or publishing a photo on Facebook as‑it‑happens. This was old‑school family life and I really wasn't missing being connected to the world in an instant.
For the rest of the day the MP01 remained in the waterproof pocket on my backpack harness. I knew that if it rang I would hear it, if an SMS arrived I would hear that too. I knew that I didn't have to "check" my phone. We got home late, cooked a meal and then headed for bed.
The MP01 stayed in the backpack.
The next day began with my son reminding me that it was almost time for me to fire up my smartphone. We sat eating breakfast, chatting about the day ahead and what other adventures we were going to look for over the rest of the vacation. At 9AM my wife took my hand and asked if the challenge had been hard for me. I had forgotten that it had finished! I realised that I had lost the urge to check the MP01, let alone my smartphone. I finished my coffee and checked the MP01 for the last time during the detox. Nothing. I was happy.
We went for the whole day before I switched on my smartphone again. I felt underwhelmed, almost sad at the prospect of lurching back into being connected 24/7. The usual several hundred e-mails and tweets and posts appeared, all vying for my attention, most of them irrelevant. The MP01 sat there on the table, still 100% full of power and hope. It will be my first choice from now on.
The last time that I had felt disconnected from the digital world was back in the early 90s.
It felt good to dip a toe into those feelings again, thank you Punkt, thank you.
Jean-Paul Hackett
Twitter @JPHackett
Instagram @hackett68